Δείτε παρακάτω πως τρέχει σε έναν απλό atari και πως σε έναν με "φτιαγμένο" με τον 65c816 @ 16 MHz
Τεράστια διαφορά
http://youtubedoubler.com/?video1=6OsK4 ... uthorName=
The 65816 is almost a drop-in upgrade to a 6502 system, bringing 16-bit operations and new opcodes and addressing modes and a 24-bit addressing space. In this case, the upgrade is running at 16MHz, so there's a sophisticated 4-layer board to be built - Michał "Pasiu" Pasiecznik's prototype upgrade card. It plugs into the original 65C02 socket, and accepts the original CPU in a socket on top.
The demo - called "Control" and originally by Oxygene - is in fact a backport from the Amiga.
There's a limitation to speedup when a fast CPU upgrade has to spend a lot of time writing to slow system memory to update the screen - and another missed opportunity if the new CPU has more capability but is just being used in compatibility mode.
http://www.6502.org/mini-projects/816conv/conv.html
http://www.baltissen.org/newhtm/02to816.htm
http://jefftranter.blogspot.co.uk/2012/ ... essor.html
Η κάρτα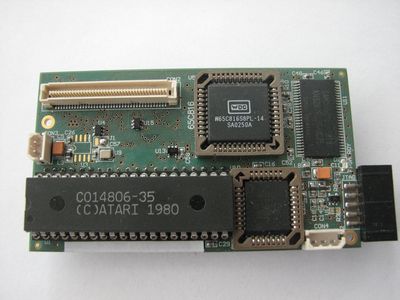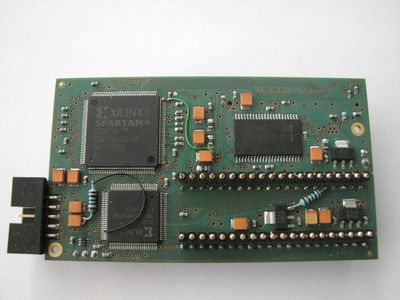 Timing
System clock @ 32 MHz
65c816 @ 16MHz (assuming lack of so called "waitstates" generated by slower peripherals on the card)
Atari Bus Manager @ 56 MHz
SDRAM @ 128 MHz
Memory
512kB SRAM
16 MB SDRAM (14.MB used)
512 KB Flash (256 kB reserved for the card)
PCB
4 layers
dimensions: 89 mm x 51 mm (3.5" x 2.01")
The card is placed in a socket of the original 6502C, which in turn migrates to the card (without the 6502C my card simply will not work). In the case of XE series you'll need an additional adapter for connecting the card. It can be visible as a NEW DEVICE - you'll need to connect two wires literally. No additional clock signals are needed. You don't need to connect an external power supply, but of course the standard Atari AC adapter will not enough.
This device would provide several modes ultimately, starting from the almost full compliance with the standard Atari - up to independent work.
A prototype works in the computer with Q-MEG OS, standard AtariOS and VBXE ver 1.0. As for the compatibility with other extensions, it should not be problems with cooperation, if they are made in accordance with the keeping all timings for the 6502C.
I do not plan any pre-orders in the near future until I consede that the status of the project is more than adequate.I attached two screenshots from SysInfo. MIPS measurements were performed with the screen turned on.
Δημιουργός
Michał Pasiecznik (Pasiu/SSG)
http://atarionline.pl/v01/index.php?ct= ... 1342207846
Φαντάζομαι ότι οι αταράδες θα το γνωρίζετε ήδη (ε Δημήτηρη?) αλλά εγώ δεν είχα ιδέα
Εδώ θα χρειαστούμε τον Optimus